Breakfast cereals are made of corn, wheat, oats and other multiple cereals as raw materials, which are matured and shaped by a twin-screw extruder. The products are crispy and have high nutritional value, and are suitable for people of all ages.
There are many vitamins, minerals and proteins in these raw materials. Through the analysis of the related nutrients in cereals, oats, corn, rice, wheat, flour and red beans can be selected as the formula raw materials for the nutritional cereal breakfast, and the use of sucrose, Ingredients such as dietary fiber, soybean phospholipids, honey, wheat starch and calcium carbonate are used to design breakfast recipes.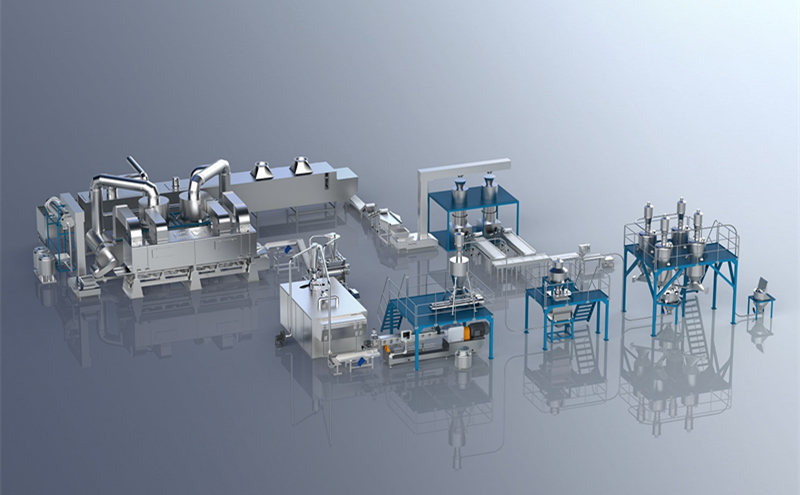 breakfast cereal production line process flow
Ingredients-mixing-conditioning-extrusion-tableting-drying-baking-spraying-drying-cooling-packaging
Automatic batching system: microcomputer control, accurate weighing. After the batching system, after the mixing is completed, if there are multiple hosts, an automatic powder feeding system can be selected.
Extrusion system: There are many types of hosts and a high degree of automation. The equipment can realize one-key start of the host, real-time data storage, real-time monitoring, alarm reminder and other functions. Our twin-screw extruder is designed by 3D software, simulated, and automatically tested by computer to ensure that it meets the design accuracy requirements. Professional manufacturing and processing, which will ensure the accuracy and coordination between each component of the extruder, stable processing and low noise!
Pre-drying system: A variety of pre-drying equipment can be provided, such as small vibrating fluidized bed, drum drying, and eight-layer vibration drying.
Sugar spray system: A sugar spray machine is a device used to spray syrup on the surface of the material to adjust the taste of the product. It is divided into two main parts: drum and slurry tank. In order to improve the fluidity and adhesion of the syrup, the drum rotates continuously and is equipped with a heating structure. A heat preservation device is also added to the outside of the drum.
Drying system: The single-layer chain plate dryer has a forced hot air circulation system to increase thermal process efficiency. The heat source can use a variety of heat media, electricity, gas, oil, steam, etc. Compared with multiple layers, single-layer chain plates have stronger penetration of hot air to materials. Water removal efficiency is higher. The control system adopts PLC module for temperature control, only PID setting and gas and oil dual-stage fire control, the temperature control is more accurate.
Fully automatic bag packaging system: suitable for products with low packaging weight accuracy, high cost performance; suitable for packaging of bulk objects that require high measurement accuracy and fragile, automatically complete feeding, measurement, filling bag making, printing date, inflation ( Exhaust), output process. The measurement accuracy is high, the efficiency is high, and the material is not easily broken.
Shandong Arrow Intelligent Equipment Co., Ltd. has a professional process research and development department and engineering equipment department, which can provide you with the design and installation of a complete system from factory layout to terminal product output according to your needs. Including the layout planning of the factory site, the selection of product raw materials, the research and development of the product process flow according to the nature of the raw materials, the configuration of production equipment, the training of production process and equipment maintenance, and the 24/7 after-sales engineers on call.